Being cooped up at home, with nothing to look at but the internet and television, has made me
extremely hungry and craving some baking
.
Day time TV has been fantastic lately.
There's been a great amount of cooking and baking shows on and I couldn't have been happier.
I'm constantly grabbing tissues at the moment, to tend to my leaky nose so I thought it best not to try baking anything.
Might be a bit gross!
Anyway, getting back to where I was heading with this...
Since I can't bake, I'll just post photos of my baking!
My friend
Aishia
and I decided that we would so some baking for our boss's wedding morning tea at work, instead of just buying it all from a supermarket or caterer. We had just had some cupcakes brought in to work previously by a caterer and they were
really yuck
. And
I knew I could do better than that!
I decided to do two batches of cupcakes so that everyone in our work team would get one each.
The first batch I made were
chocolate cupcakes
with some sprinkled white chocolate chips. I may have gone a little overboard with those. :P
I whipped up a
chocolate buttercream frosting
and piped it on using the handy 1M piping tip.
I'm never happy with how my buttercream comes out when piped - I always end up with too much air in the bag or in the mix, so then it doesn't come out all nice and smooth.
Must find a way to fix this!
If anyone has any tips for this please
email
or
Tumblr ask
me!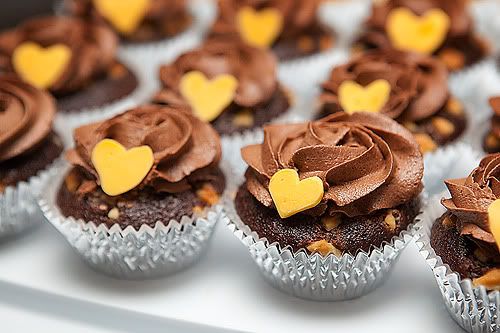 So since the frosting didn't nicely attach back to itself, I decided to pipe some
little hearts
out of
candy melts
to decorate them and cover up the bad join of the frosting. I chose yellow candy melts to match the other batch of cupcakes I was making.
They turned out super cute!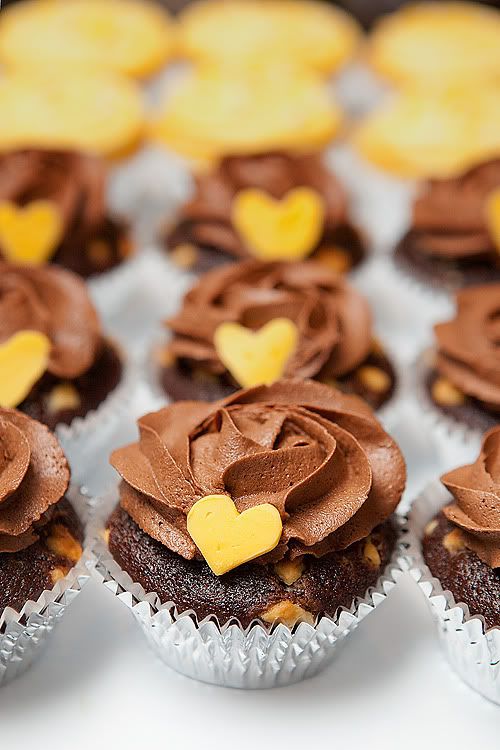 Just because I hadn't had them in ages
(and was really craving them!)
I made
lemon cream cheese cupcakes
for my second batch.
This recipe might just be my favourite cupcake
ever
.
I love lemon.
I love cream cheese.
I love cupcakes!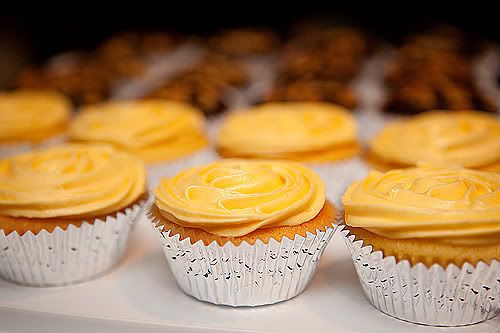 Lemon cream cheese frosting
was the obvious choice to pair up with these cupcakes (just add 2 teaspoons of grated lemon rind to the recipe in the link).
You'd think it would be
'too much'
lemon and
'too much'
cream cheese. But no way.
All of it. Together.
So good.
This frosting looked really cute when I used the 1M tip. Super happy with how it worked out since this was the first time I had used that tip and I had heard
many great things
about it!
I popped some
white pearl sprinkles
on top and they looked really nice!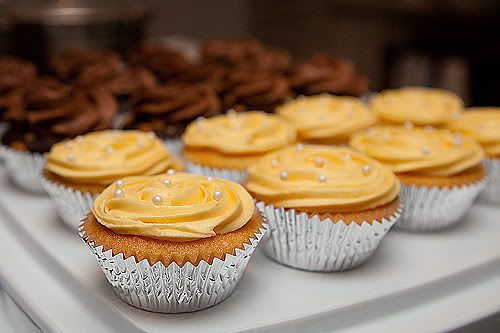 I originally intended to do these cupcakes in a real
'bride and groom' theme
but I let time get away with me and never made any groom decorations, and then decided that I didn't want to make the lemon frosting teal (the colour theme of my boss's wedding) cause I thought it was
weird
. So this is how they turned out in the end.
Ha!
They got eaten up crazy quick! It's not often that all of the food we have at our morning teas get eaten so it was great when these all got gobbled up.
Aishia made some
AMAZING white chocolate brownie
(which I will be making myself some time soon cause it was delish!) and chocolate chip cookies and they all got eat up too!
SUCCESS!