I thought I should introduce
my little work space
to you all. I live in a teeny apartment so there's not enough room to have my own desk so the dining table is all I have to work with.
It has everything I need. I guess if I want to start doing crafty things I will just use the rest of the table or the floor for my work area. Flatmates are gonna love that although right now lots of floor space is taken up with the boy's photography, video and sound gear.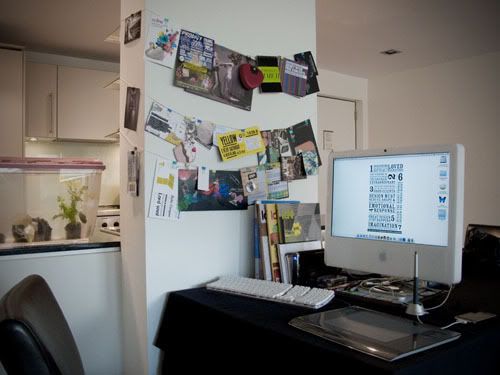 Things I must have at my work space:
iMac
Could always do with upgrading, so who will buy me one?
External hard-drive
USB hub
How I got on without one of these prior to buying this one is beyond me
Wacom pen tablet
Home one
is an Intuos 3 (A5 size), work one is an Intuos 4 (large)
iPhone
Always with me
Inspiration board
Fashioned mine out of cooking twine and cute pastel coloured bulldog clips
Stack of magazines
My favourite is IdN and Prodesign is pretty good too
Canon G11
Recently purchased, these photos are taken with it (will probably do a post about the camera in the near future)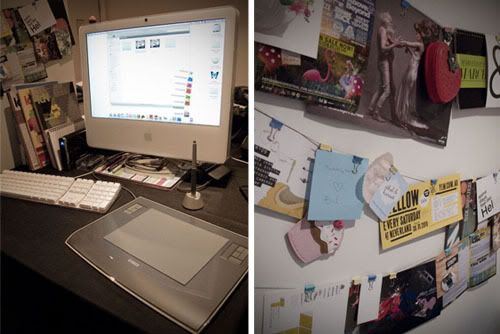 And as an added bonus to my work space, my awesome
Fishy
sits right beside me.