Teal is one of my favourite colours right now and I really want to try out the teal colouring gel I just got. I also really wanted to test out these black and white dotty cups I bought. Decided to go with something simple but not overly plain, so I made
Vanilla Chocolate Chip Cupcakes
.
Vanilla Chocolate Chip Cupcakes
(actually just vanilla butter cakes with added chocolate chips)
1 cup self raising flour
90g softened butter
1 teaspoon vanilla extract
1/2 cup caster sugar
2 eggs
2 tablespoons milk
A handful or two of chocolate chips
Preheat oven to 180 C.
Sift flour into bowl, add butter, vanilla extract, sugar, eggs and milk.
Beat together until ingredients are combined and the mixture changes to a paler colour.
Bake for 20 minutes.
The paper cups I used didn't really work as nicely as I had hoped. The ended up completely covered in grease from the mixture. I put them into a second cup to hide it but those just looked even worse. Bit of a bugger. I think if I really wanted to use them again I would bake them in plain cups and then pop them into the black and white dotty ones.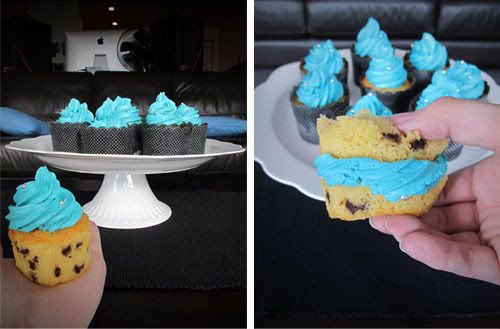 Vanilla Butter Cream Frosting
125g softened butter
240g icing sugar
2 tablespoons milk
Beat together. I then added in a little bit of whitener so that they yellow from the butter wouldn't effect the teal, and then popped in some teal colouring gel. They came out a lot bluer than I would have liked but the colour is still stunning!
Carly
made some adorable
chocolate sugar cookies
in the shape of bunnies and hearts to go with the cupcakes. They tasted delicious! I'll eventually make some of these too and I'll post the recipe then.
TIP:
All cupcakes should really be eaten as a
cupcake sandwich
, as shown in one of the pictures above. Makes them so much easier to eat when they have so much frosting! Just break the cake part in two and take the bottom half and plonk it over the frosting and squish down. Nom nom nom!