Just a week or two before Christmas I visited an ENT specialist (ears, nose, throat) because of some on-going nasal and asthma issues. Amongst other things he is making me do, I have to be on a
four week dairy-free diet
. As well as no dairy,
I'm not allowed chocolate flavours, like cocoa. :(
Perfect timing for Christmas right? I cheated a tiny bit on Christmas and Boxing day. I couldn't not try one of my grandmother's custard meringue things, or the
strawberry chocolate bon bons
that my brother got for my stepdad! Am I right?! :P
So now that I'm on holiday with
nothing
to do, all I want to do is bake! This whole no dairy thing got me a little stumped at first since I couldn't use butter or milk in baking, until I discovered dairy-free margarine!
I bought myself another Christmas present, a bright red with white polka dot cookie tin, which lead to me wanting to bake cookies to fill the tin! I wanted to try something new, that involved as little dairy as possible and no cocoa. I'd seen pictures of snickerdoodles before and they intrigued me... so that's what I made!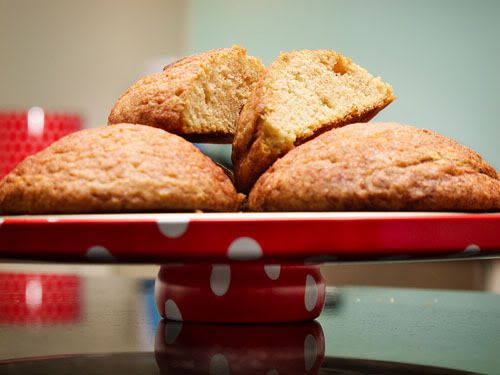 Snickerdoodles (using dairy-free margarine)
- Makes 42
250g butter
1 teaspoon vanilla extract
110g firmly packed brown sugar
220 caster sugar
2 eggs
410g plain flour
1 teaspoon baking soda
1/2 teaspoon ground nutmeg
1 tablespoon caster sugar (extra)
2 teaspoons ground cinnamon (extra)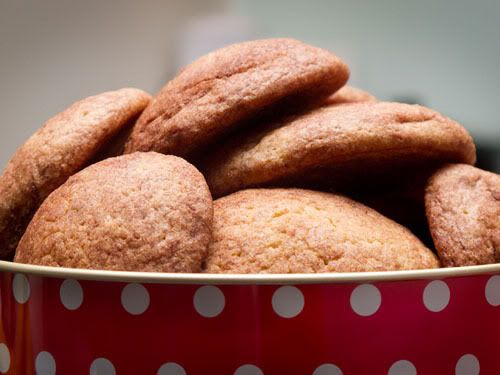 Beat butter, extract and sugars until light and fluffy.
Add eggs, one at a time, beating until combined.
Stir in sifted flour, soda and nutmeg in two batches.
Cover and refrigerate for 30 minutes.
Preheat oven to 180 C and line baking tray with baking paper.
Combine the extra caster sugar and cinnamon in a small shallow bowl.
Roll level tablespoons of the dough into balls and roll in the cinnamon sugar.
Place balls about 7cm apart on tray.
Bake for 12 minutes.
They taste AMAZING.
I actually accidentally added 1 teaspoon of cinnamon into the dough mixture, which was fine by me since I love cinnamon! And I ended up making a second set of the cinnamon sugar because I used up the first lot half way through the batch.
The texture is
fantastic
- sort of crunchy on the outside and soft in the centre.
I love them!
Definitely a new favourite!