Sorry sorry sorry! I have been insanely slack with my blog lately. Well, for months actually. I haven't even been busy. There's no excuse. So I shall be making a few posts in quick succession (hopefully!) about things that have occurred in these past few months.
As you may have noticed from one of my previous posts,
I love citrus
.
These are some
Lemon Cream Cheese Cupcakes
I made before heading off to
Disney On Ice
!
Lemon Cream Cheese Cupakes
90g softened butter
90g softened cream cheese
2 teaspoons finely grated lemon rind
2/3 cups castor sugar
2 eggs
1/2 plain flour
1/3 self-raising flour
Preheat oven to 160 C.
Beat butter, cream cheese, lemon rind, sugar and eggs until smooth and creamy.
Sift the flours and gradually add to the mixture. Beat on a low speed until combined.
Divide mixture between 9 standard cupcake cases (or 12 smaller - not mini - cases).
Bake for 25 minutes.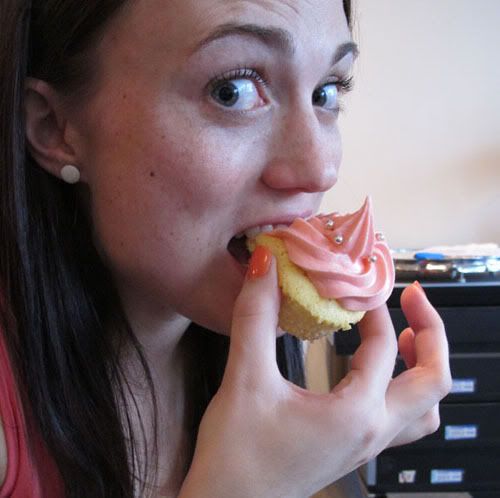 I used my usual
Cream Cheese Frosting
recipe, using 2 teaspoons of grated lemon rind.
Yummyyyyyyy.