I visit many baking blogs/sites during my daily internet rounds, and I had seen these particular paper cups used a lot. I really love the look of them. They look really cute with all cupcake flavours and colours so I decided that I had to find them and test them out.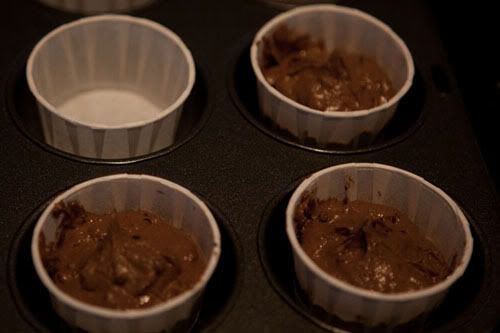 I wasn't aware at the time that these are nearly impossible to find in shops in New Zealand. I checked around 5 different kitchen/baking stores in the city and none of them had them. I even asked the shop assistants if they knew where I could try. I showed them pictures of what I wanted and none of them had ever seen them before. I was annoyed and the fact that I couldn't find them made me want them even more.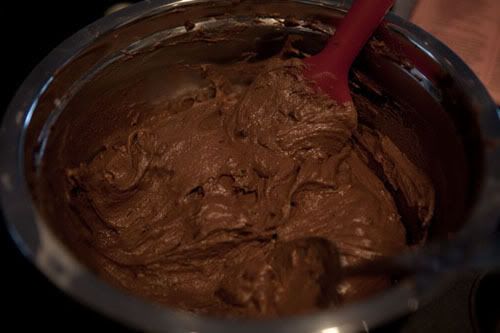 A month or two later, I finally found someone selling them on TradeMe. They were fairly pricey cups - $6 for 10.
Decided to go with a
Rich Chocolate Cupcake
recipe, with a cream cheese frosting. I wanted the frosting to be a bright purple colour, just for fun, but my food colouring wouldn't suffice so I ended up with a strange mauve/grey colour.
I'm unsure why but the first batch I did (using these new paper cups) failed miserably. They look fine in the photos but they had actually sunken nearly all the way to the bottom of the cup. The second lot were much better even though it was the same batter and same oven temp. Good thing they still tasted amazing!
After that big hunt for those cups I ended up not really liking them. We found it quite hard to get the cupcake out of them. I had to use a spoon to get the cupcake out and my boyfriend just teared them apart and ended up with cupcake everywhere. Still.... nom nom nom.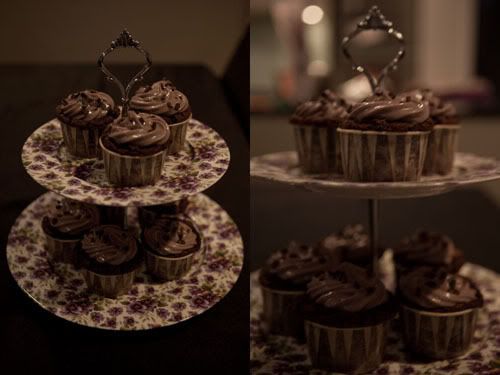 Sorry that the photos are so weird and dark. I fail miserably when it comes to cameras and I had fiddled around with some of the settings on my boyfriend's camera. Oops (this is why I don't have nice things!).
P.S. Check out my pretty floral two tier cupcake stand that my friend Anneka got me for my 24th birthday! It's puuuuurdy.