As usual, I am crazy late with this... but...
Happy belated Valentines Day
everyone!
I've never really been that into Valentines Day. Just a marketing gimmick to sell stuff and all that. But I must admit, baking for Valentines Day
is rather
fun!
As I think I said in an earlier post, my boyfriend was away in Melbourne this Valentines Day, working on a stop motion TV ad. Because he couldn't be with me that day he sent me a
gorgeous bunch of flowers
(kicking myself for not taking a photo of them!) and a
delicious cake.
I ended up spending Valentines Day evening with my flatmate
Carly
and my cousin Tyler, watching TV. It was a great
girls night in
!
For the occasion I decided to make some
COOKIE POPS!
I'd never made cookie pops before so I just kind of winged it and they turned out awesome!
I made large
heart chocolate sugar cookies
(you can find the recipe in my post
here
) and I used some
cookie pop sticks
that I had from
Millys
. I actually made the cookies so big because of how thick the sticks were. They ended up far too big for my liking. Could be good if you were wanting to have fun large wedding cookie pop favours or something. But I think a bit smaller would have been a better. I'd have to use the smaller cake pop/lollypop sticks for smaller cookies.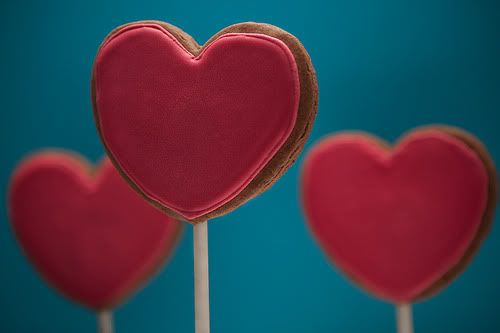 I made up some
pink
colour flow icing
and piped the outlines on. I then thinned the rest of the colour flow with water and flooded the outlines once they had set.
Definitely need to work on my outlining skills. I wobble
heaps!
Haha. And I probably have to work on the flooding too. Might need to make it a little bit thinner first, cause it had a few little bumps which didn't merge back in with itself.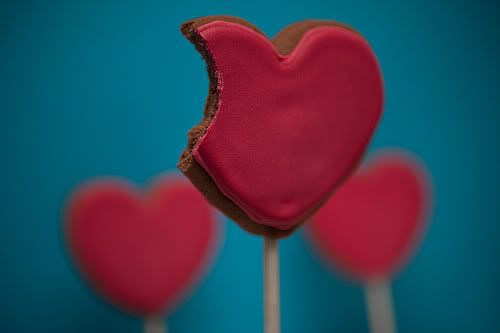 Pretty cute in the end though.
Cookie pops are rather fun!
They'd make fantastic favours and would look great on a dessert table. They're also
super simple
to do!