A few weeks ago my friend Shahlin from
Coup De Main
asked me to make a dessert table for a
Taylor Swift Prom
evening that was to be held for a competition winner. Basically people got to submit their ideas for the perfect Taylor Swift prom night with a budget of $3,000. The winner wanted their prom night to be themed
Merry Swiftmas
(due to Taylor Swift's love of Christmas).
So I spent 3 days in the kitchen(s) baking my heart out and I was really pleased with how it all turned out! You can check out the photos from the actual Coup De Main event
here
. Hope you like it as much as I do!
Chocolate Cupcakes
I had seen
this photo
online of these awesome little cupcakes that had icing that looked like a Christmas tree and though that something like that would be perfect for my dessert table.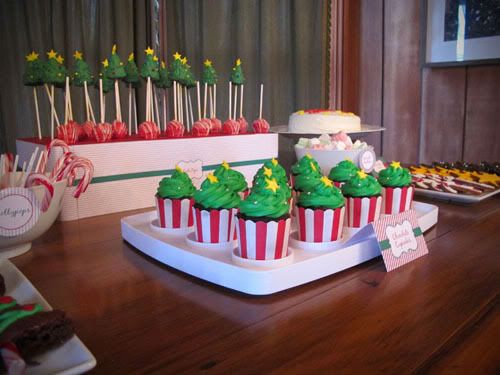 I used the usual chocolate cupcake recipe I always use (found
here
minus the peppermint essence and chocolate chips) and my usual plain
cream cheese frosting
recipe but added kelly green colouring gel to it.
I piped them so they sort of had a Christmas tree look to them, added little silver balls and the yellow fondant stars I had made earlier in the week. Topped the stars off with some pearl luster dust and they were good to go!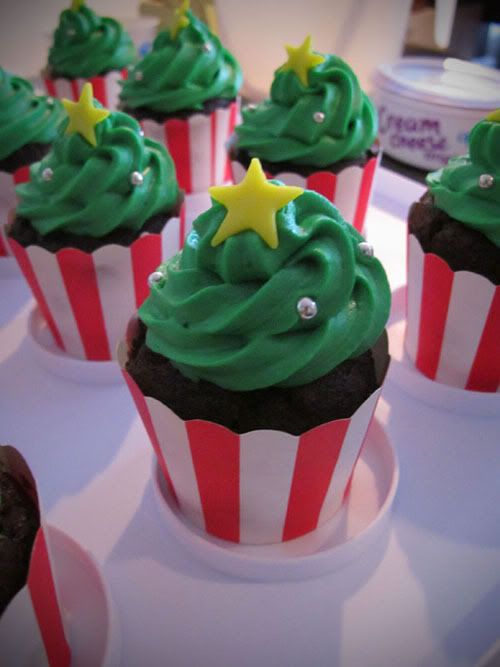 Lemon Cupcakes
One of the things that was requested by the girl who won the competition was that she wanted cupcakes with the number 13 on them, like the cupcakes Paul O'Grady gave Taylor Swift (see them
here
). I wasn't too keen on piping numbers so I decided to make fondant 13's instead.
I made
these vanilla cupcakes
(minus the chocolate chips) and added 1 teaspoon of grated lemon rind and a tiny bit of lemon juice to it. I then used my cream cheese frosting recipe (as linked to above) with some more lemon rind and red colouring gel. I piped them with a round tip so that they looked quite a bit different to the Christmas tree chocolate cupcakes and popped the fondant 13's on top of each one.
The humidity at the time made them blob out a little more than I cared for but what can ya do! I didn't want to keep adding icing sugar to it cause it would have just been wayyy too sweet. These were probably my least favourite thing on the table. I had a picture in my mind how they would end up and this wasn't quite it but that's okay! Live and learn...
Cake Pops! (vanilla cake and vanilla frosting)
These cake pops were made by
Lydia (Grace Cakes)
and I, with the help of the fabulous
Bakerella's Cake Pops book
. They turned out wayyyy better than I thought they would considering it was the first time I'd ever tried to make them and I had no idea what I was doing!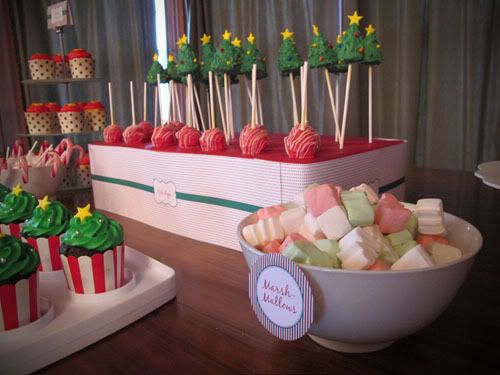 They were a heap of fun but extremely time consuming! Check out a
full blog post from me here
about these cake pops with lots of details about how we made them.
Chocolate Sugar Cookies
This was the first time I've ever made cookies by myself. Quite fun! I've posted a few photos of this recipe before but they were ones that Carly had made. So here's the recipe...
125g butter
165g firmly packed brown sugar
1 egg
225g plain flour
35g self raising flour
35g cocoa powder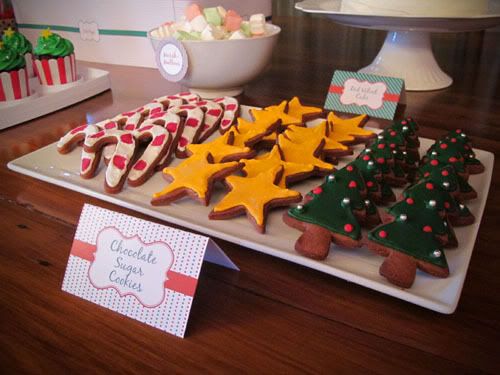 Beat butter, sugar and egg until combined.
Stir in sifted dry ingredients in two batches.
knead dough on floured surface till smooth.
Roll between sheets of baking paper till 5mm thick.
Refrigerate for 30 minutes.
Preheat oven to 180 C and line baking tray with baking paper.
Cut out your shapes - I chose candy canes, Christmas trees and stars.
Bake for about 10-12 minutes.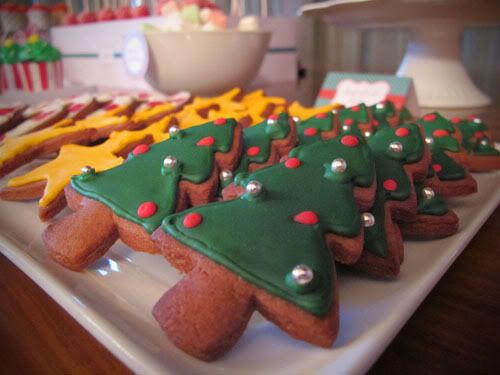 I decided to have a crack at icing the cookies, and rather than making my own royal icing from scratch (having watched Carly make hers and it didn't turn out quite right) I decided to use
Wilton's Color Flow
as I had seen how well it turned out on the cookies done at
Millys
.
I found it surprisingly easy to work with (especially after Lydia had told me it was quite tricky to work with) and they came out better than I had imagined. I thought I would be quite terrible at outlining and I wasn't sure about how well the flooding would go. But it was all just fine! Not bad for my first attempt at cookies and flooding/outlining!
I also brushed on some of that pearl luster dust to make them a little more interesting! And added a few silver balls to the Christmas tree cookies.
Nom nom nom!
Red Velvet Cake
The girl that won the competition had specifically requested a cake that said "Taylor Swift is Fearless so Speak Now" (a sentence that contains all 3 of Taylor Swift's album names) however I really struggled with the whole writing with icing thing. So instead I made fondant letters (actually
Lydia
helped me out with the letters too cause my ones just weren't working out very well) and popped those on top of the cake.
The cake itself was made with
Lydia's
red velvet cake recipe. As it wasn't a recipe straight out of a book or one of mine, I won't be giving it out here. But the frosting is just my plain
cream cheese frosting
(as seen in previous posts) with some whitener. The cake is actually made up of two cakes with a layer of frosting in the middle.
The stars were added by my boyfriend and I brushed luster dust on to all of the letters and stars. Pretty happy with the overall cake considering it was the second cake I've ever made.
Christmas lollypops and candy canes
Arranged by my wonderful boyfriend who just wanted to hurry me up so we could get out of there haha.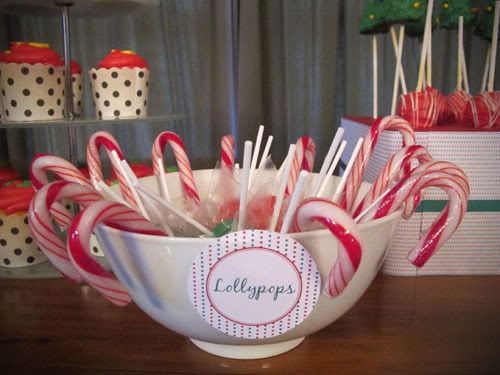 Triple Chocolate Fudge Brownies with a Peppermint Twist
These were sort of my add on item, to bulk up the amount of food on the table. Due to time constraints I decided to use packet brownie mix, I chose the wonderful Better Crocker pack, and added some things to make it a little more Christmas-ey (inspired by
this picture here
)!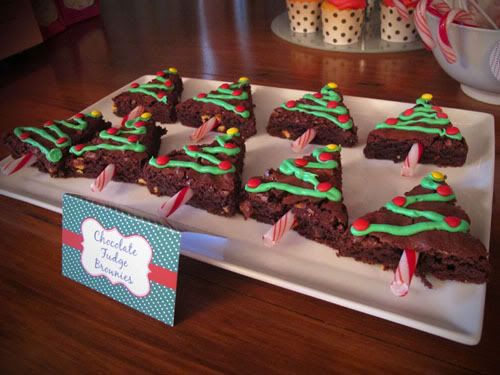 I had some Betty Crocker vanilla frosting left in the fridge so I added some peppermint essence to it and some kelly green colouring to it and piped it onto the triangle shaped brownies. I then added small bits of the straight part of candy canes to be the tree trunk. Added on a few mini M&Ms and voila! Brownie Christmas trees with a peppermint twist!
So that was my first attempt at a whole dessert table. Took me 3 stressful but fun days to do it all. I think if I ever get asked to do one of these again I will split the workload with someone else, or at the very least not include cake pops in it as those were far more time consuming than I thought they would be!
Super happy with how it all turned out!