I've finally managed to keep a blog post goal! I promised to have a wedding invite post up this weekend and
here it is!
...Even if it is an hour till it's Monday.... Slowly getting the hang of this blogging business hehe.
So, shortly after Michelle (the bride who I did the
passport wedding invitation
for) had sent out her invitations, she started getting some great feedback. Everyone seemed to really love them and she asked me if I wanted more wedding invitation design jobs. I jumped at the chance, as I want to bulk up my portfolio.
Michelle's bridesmaid, Stacey, was getting married extremely soon and wanted a simple invitation made up asap. The wedding venue was their family bach, so naturally the theme became
the beach
.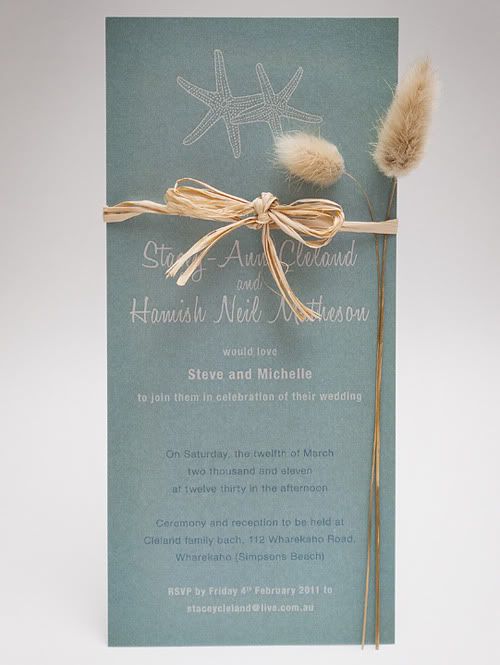 The
green and silver colour palette
was chosen because Stacey's dress was to be silver and the bach is painted green. I complimented them with blue tint version of the green and a
navy blue
.
Yummy!
I found a
silver card
in
Gordon Harris
which worked perfectly with the green. When the green was printed over the silver it had a
really gorgeous sheen
to it. I paired that up with a matching silver envelope and
silver washi tape
to close it up (the washi tape turned out to be the exact same silver too!).
I used
a pair of starfish
as the main feature of the design, as they will be having starfish and shells on/around their wedding cake and as decorations.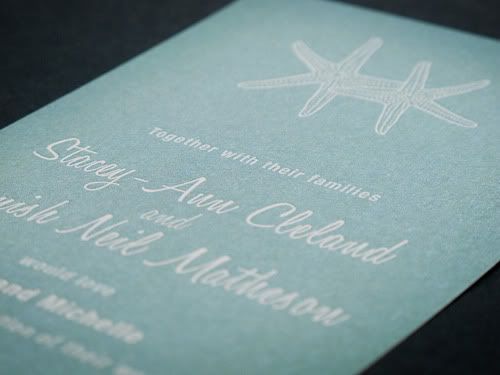 The back of the invitation I kept silver and it carried the accommodation and gift information, as well as a
location map
that I created. I used a little starfish to mark the spot of the venue.
Stacey sourced some
bunny tail grass
- such a classic NZ beach feature - and attached them to the invite with
a bow of raffia
.
Looked really great!
It all came together quite quickly but I'm really pleased with how it turned out. I think the green colour on the silver card is what made it for me! Hope you all like it!