My best friend,
Brit
, became an aunty yesterday. Her wonderful little sister, Kelsie, had a sweet baby girl named
Sophia Rose
.
Such a cute name.
Ages ago
(not sure why I'm only just getting around to posting this now, I have serious delays in posting things sometimes...)
I made up some
baby shower invitations
to help Brit organize Kelsie's baby shower.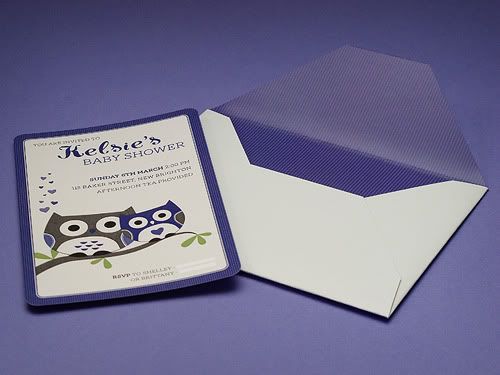 They knew that baby was going to be a girl and Kelsie hates the colour pink -
so purple it was!
Cute little owls
became the theme of the invitation.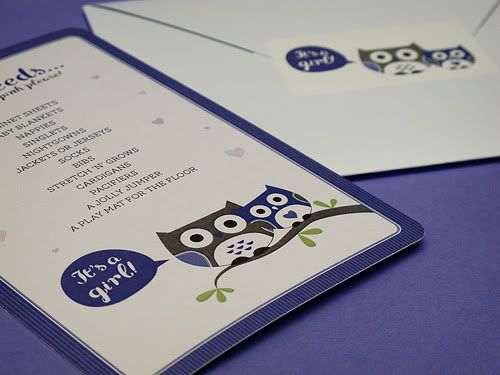 There wasn't enough time when I originally made these to make up
custom envelopes
(they're pretty fi
ddly, and Brit had already sourced some perfect white ones from her work) but I thought I would make one up for my own portfolio copy anyway.
I made the inside of the envelope match the purple striped border on the invitation. I also made up some
little owl stickers
to go on the envelopes, which Brit got copies of to go on her envelopes too.
They made a
list of gift ideas for the baby
which I put on the back of the invitation -
gift lists are so handy!
And a special mention of 'no pink please' was noted as well.
Love how the invite turned out in the end -
I might be a little biased because I love owls and I love purple.
:P
I also made a matching paper
bunting
for the shower. Stealing one of Brit's photos (you can see more photos of the shower
here
)...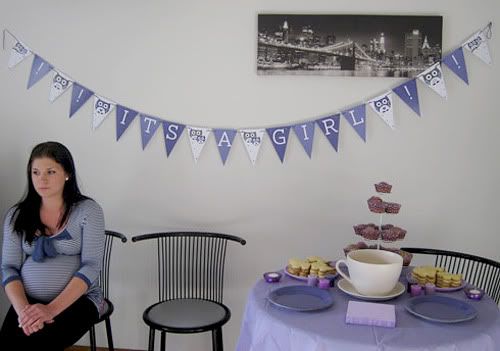 How cool is that massive mug bowl?!
I think it was full of candy.
YUM.