I mentioned in an earlier post that I went to my friend's hens party not last weekend but the one before, and we had to bring a food item that was gluten free). As requested by the bride, I made
gluten free vanilla cupcakes
- her favourite flavour!
I hunted around for a recipe for a while. So many of them had a few different kinds of flours in them and xanthan gum. All of which I was too lazy to try and find since my local supermarket didn't sell xanthan gum. Ended up finding an extremely simple recipe that called for normal gluten free self raising flour so I went with that.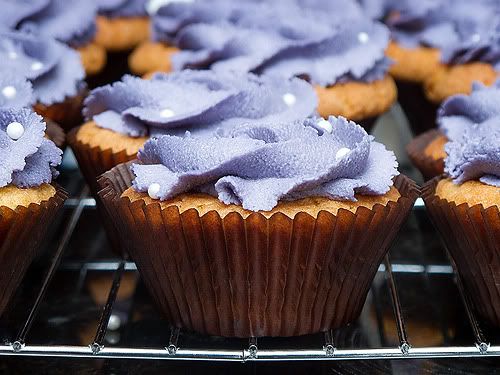 Gluten Free Vanilla Cupcakes
Taken from
Katie's Kitchen
225g softened unsalted butter
225g caster sugar
225g self raising flour (I used
Orgran's Gluten Free Self Raising Flour
)
1 teaspoon baking powder
4 eggs
1 teaspoon vanilla extract
Preheat oven to 175 C.
Place all the ingredients in a bowl and beat until smooth and pale.
Spoon mixture into cupcakes cases.
Bake for 20 minutes.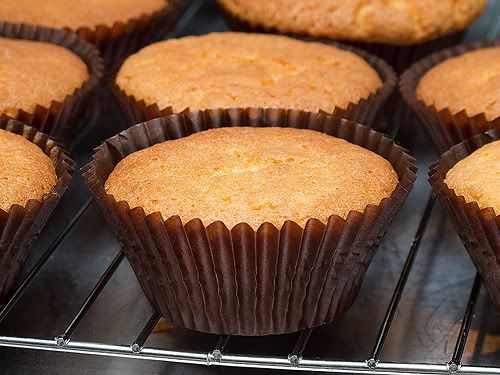 This recipe ended up making about 20 normal sized cupcakes, however I overfilled my first tray of them and they spilt over the sides and the tops of them split a little. Oops. My second tray came out perfect though!
The photo above shows good ones, the photo below shows the overfilled ones.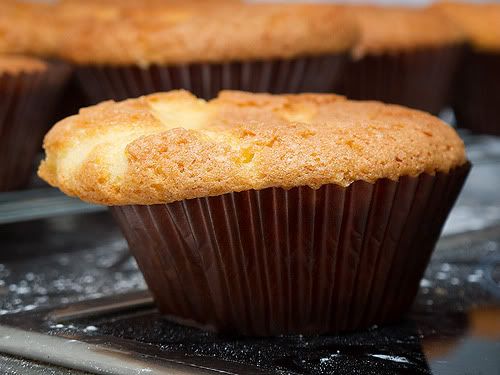 White Chocolate Frosting
Taken from
How Sweet It Is
113g softened butter
2.5 cups icing sugar
1 teaspoon vanilla extract
113g melted white chocolate (I used Lindt)
1-2 tablespoons milk (or more if needed)
Cream butter with electric mixer until fluffy, then add vanilla.
Slowly add in powdered sugar, half a cup at a time.
Add in melted white chocolate and beat until incorporated.
Add in milk 1 teaspoon at a time with mixer on low speed to reach desired consistency (I didn't actually add any at all).
Add in your colouring. I used violet colouring gel.
Pipe onto cooled cupcakes.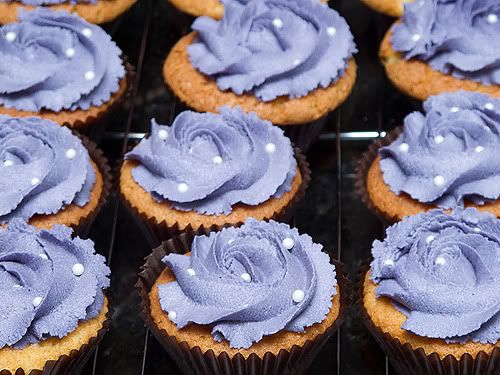 The frosting turned out a little grainy and that only happened when I added in the chocolate so I might have done something wrong there.
Ah well.
The frosting tasted really good.
I'm not usually into buttercream type frostings but this one was really good and I couldn't taste the butter at all!
The cake part was
super soft and melt in the mouth
, almost like a sponge sort of texture. Plain vanilla cupcakes aren't usually my thing but these were pretty good! Plus the simple recipe and low amount of ingredients made them really easy to make.
In conclusion, using the gluten free self raising flour worked out really well. You can pretty much use it in any recipe in place of normal self raising flour, or normal flour for that matter cause you can get the GF version of that in the supermarket too. Can't wait to do more experimenting with gluten free baking. My boyfriend will be happy cause he can never eat what I bake!