Back in March I posted some baking I did for my friend
Aish's 22nd birthday party (passionfruit cupcakes)
and mentioned that I also made
another attempt at macarons
that didn't work out quite right.
Well here they are in all of their failed glory.
They actually don't look
THAT
bad. And they didn't taste
THAT
bad either. I just wasn't happy with them. They were a little dryer than my previous ones and their feet didn't stay puffed up. They looked perfect when I grabbed them out of the oven and as soon as they were out the just collapsed back down.
They also didn't keep their colour well. The insides of them were still the baby blue colour I had made the mixture but the shell went pale and browned.
Booooooo.
I'm going to post the recipe for these ones anyway cause I think it might have been that my oven was slightly too hot for them, and maybe I over mixed them a little? I'm not sure. EIther way, the recipe might still be good so I will give it another shot some time.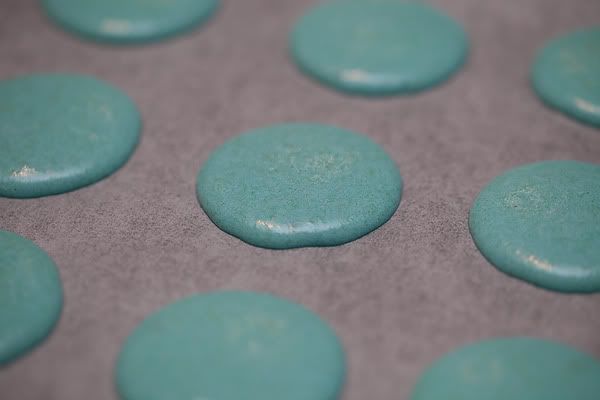 Basic Macarons
From the book
Macarons by Annie Rigg
200g icing sugar
100g ground almonds
120-125g egg whites
a pinch of salt
40g caster sugar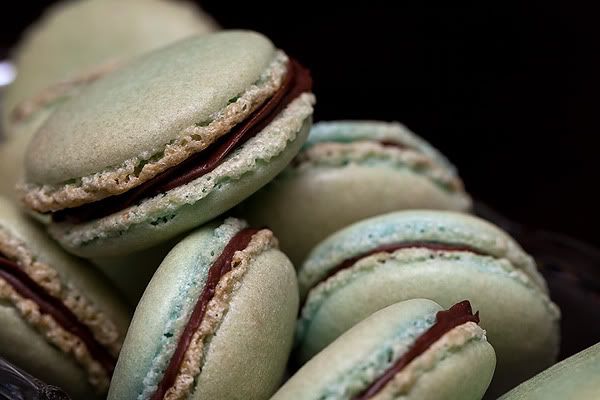 Mix icing sugar and ground almonds together thoroughly.
Beat egg whites and salt together with an electric mixer until they hold a stiff peak.
Continue to beat whilst adding the caster sugar a spoonful at a time. Mix well to ensure that the sugar is thoroughly incorporated. The mixture should become thick, white and glossy.
Add any food colouring you want in now. Mix till evenly blended.
Fold the icing sugar and almond mixture into the egg whites until thoroughly combined (this could take a few minutes).
Fill piping bag with mixture and pipe evenly sided rounds - about 5cm width - onto baking sheets.
Tap bottom of baking sheets sharply once to expel any large air bubbles.
Leave these for about 30-60 minutes to 'set'.
Preheat oven to 170 C.
Bake macarons for 10 minutes.
Leave them to cool on a the baking sheet.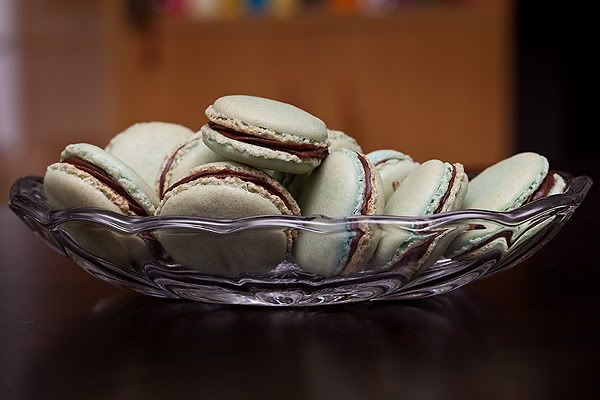 In our hurry to get to the party, I asked Carly to make some chocolate ganache which didn't work out so that's why they never made it to the party. I ended up grabbing some
Betty Crocker Chocolate Frosting
from the supermarket and filling the macarons with that later on. It was a little too sweet for my liking but they looked alright!
I think next time I make macarons I will try chocolate ones. I also really need to work on my ganache making skills...
Practice makes perfect!