It might seem ridiculous to some people but I had never made a cake before, by myself, till a few weeks ago. I may have 'helped' my Mum make a cake or two when I was younger, but that was about the extent of it.
A lemon yoghurt cake had come up in conversation weeks prior to this and I could not get it out of my mind! It was all I craved for days! So that was what I made for my first cake.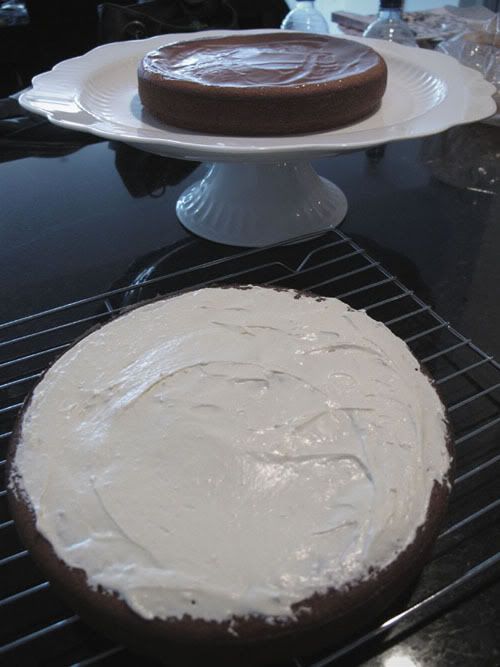 Lemon Yoghurt Cake
125g softened butter
1 cup caster sugar
Finely grated zest of 2 lemons
3 eggs
1 cup plain flour
1 teaspoon baking powder
¾ cup plain yoghurt (I used unsweetened cause that's how I roll)
Preheat oven to 160 C fan bake.
Grease a 20cm spring-form cake tin.
Combine butter, sugar and lemon zest in a bowl and beat with an electric mixer until pale and creamy.
Beat in eggs, one at a time.
Sift dry ingredients together and add alternately with yoghurt, stirring to just combine and form a smooth batter.
Spoon mixture into prepared tin and bake for 45 to 50 minutes.
A layer of
lemon curd
was added on top of the first cake. I then made up some
Cream Cheese Frosting
(whitened) and added a layer of that on top of the lemon curd. Popped the second cake on top of that and then used the remaining cream cheese frosting to cover the entire cake.
The strawberries were the perfect addition as they balanced out the sweetness of the cake. Definitely a keeper recipe! Will be making many more of these.
NOW THAT'S MY KIND OF CAKE.
P.S. Check out Carly and I's cute new yellow aprons in that last picture. A full apron for the main baker and the little waist one for the assistant! :P