As a Christmas present to myself I purchased
Bakerella's Cake Pops book
.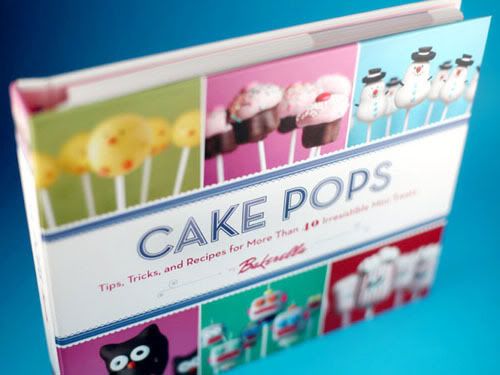 My friend
Lydia (Grace Cakes)
purchased the book as well so we decided to have a cake pops date just before Christmas to attempt to make some fun Christmas cake pops! We decided to go with the
Christmas Tree ones that Bakerella made
.
We wanted to do Santa hats as well but Lydia had played with the red candy melts previously and they weren't a bright red, more of a dull red/pink so we ditched the Santa hat idea in fear that they wouldn't really look like Santa hats. Will look into ways to make it more red!
So pictured below are Bakerella's Christmas Tree Pops, which I think we got a very similar look to! It's a pity my photos are never going to be as nice as hers haha.
After we had already decided on a date for our cake pops date I was asked to do a whole dessert table for a Christmas event, and the event just happened to be the day after our cake pop date! It timed so perfectly and the Christmas theme worked in to what we were already doing. Perfect! My next post will go into further detail about that dessert table so you can check that out
here
.
Lydia and I's Christmas Tree Cake Pops and Plain Ball Cake Pops
Lydia made the vanilla cake and vanilla frosting from the recipes in Cake Pops book the day before (I was too busy with trying to do all of the other things for the dessert table to do this so Lydia was an amazingly huge help!).
We crumbled the cake and mixed it with the frosting which turned it into what looked like cookie dough. We then made our Christmas tree cone shapes and some plain ball shapes out of the mixture and popped them into the freezer to harden/cool.
We found that the longer we left the cake out of the fridge, the harder it was to dip them into the melted candy (Wilton Candy Melts available from
Millys
) without them falling off in the cup. So we left all of the cake balls/trees in the freezer and took them out one at a time to dip into the candy melts. It worked a treat once we figured that out!
Using a
toothpick (new best friend!)
, we then created the tree branches from the melted candy. Some of them turned out better than others, there was a bit of a knack to it!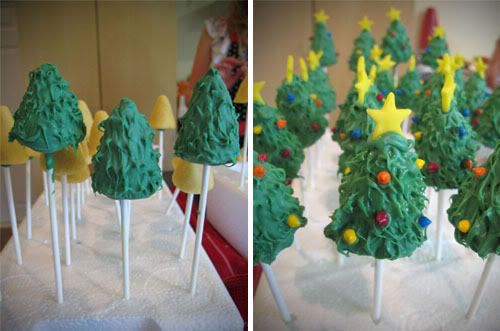 Then using a toothpick I blobbed on a little bit of candy melt and stuck on the chocolate sprinkles and fondant stars (that I had made earlier in the week). This part was pretty darn time consuming!
When they all at together they looked like a little forest of Christmas trees! I added on a bit of pearl luster dust to the stars just by brushing it on.
They looked amazing!
While I did the time consuming sticking on sprinkle part, Lydia dipped the plain ball shaped pops into red candy melts and then did white candy melt drizzled over them. We decided to have them sitting upside down mainly out of ease. It was extremely hard to find a good piece of polystyrene to display the cake pops and it was really hard to actually get them to stand up nicely in it without toppling because the polystyrene wasn't a perfect block - it had parts cut out of it etc. Next time I make them I'll actually go to Spotlight and buy a proper block of it, or find some other fun crafty way to display them.
Pictured below is a sneak peak of the final result displayed on the dessert table. They looked really awesome and that bit of polystyrene was the perfect fit for all of the cake pops.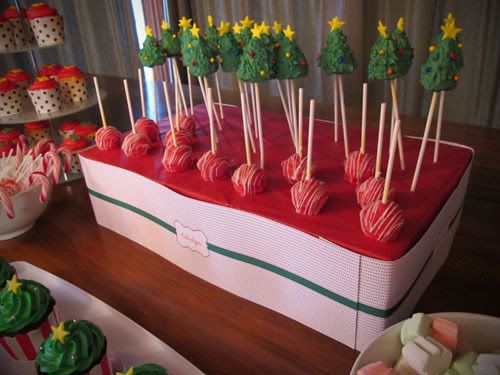 In the end, it was a
very
time consuming effort. Plain ball cake pops wouldn't take very long at all but making the branches and then sticking on all the sprinkles on the tree ones took a lot longer than I imagined. All up we spent about 8 hours making those!
It was worth the effort, everyone was amazed by them (Lydia and myself included). They tasted really intensely sweet! I definitely couldn't eat more than one though.
You will definitely see more of these cake pop experiments from me in the future!
I can't wait to make more!