A friend of mine, Soph, had a sweet little birthday party at an
adorable
cafe a few weeks ago and her boyfriend, Si, asked me to make her some birthday cupcakes for it.
On a side note,
go check out
Soph and Si's amazing photography
. If I ever get married they will totally be the photographers and I will absolutely get a stop motion video done by them!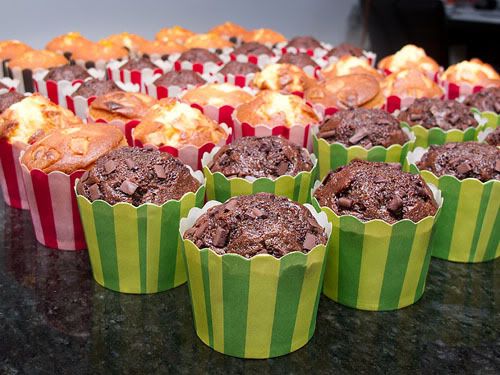 Getting back to the cupcakes...
I had to make 40 of them and I wanted to make four different flavours, just for fun. So to make it easier I decided to make two batches with a
vanilla buttercake recipe
and two batches with a
chocolate cake recipe
so that they would be easily adaptable to other flavours.
Lemon Cupcakes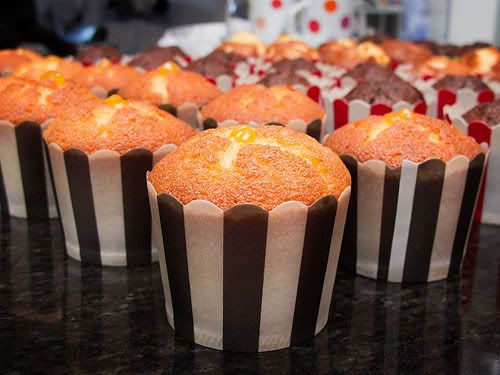 Of course the first one I HAD to make was lemon flavoured -
my favourite!
I filled the vanilla buttercake cupcakes with some lemon curd (didn't make that myself cause I was a little too lazy and we already had some awesome lemon curd in the fridge that I use on toast - yum!) using the
Wilton's 230 decorating tip
.
I topped them off with some
lemon cream cheese frosting
, coloured with golden yellow colouring gel, in a pretty little swirl. Yum yum!
The black and white cases made them look like bumble bees - now I know what cases to use if I ever make honey cupcakes!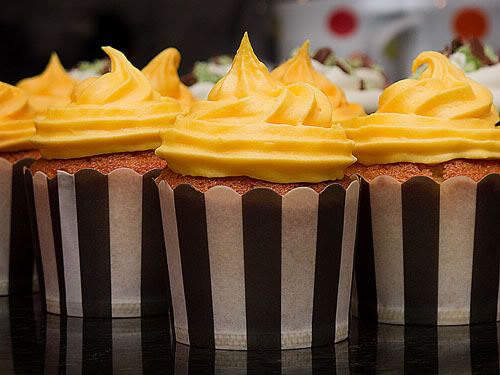 White Chocolate and Raspberry Cupcakes
These were fairly simple. I just chopped up some white chocolate (cause I failed to find white chocolate chips at my supermarket) and added it to the vanilla buttercake batter, as well as sprinkled a few on top of the batter in the cases before popping them in the oven.
I made some plain buttercream frosting and added in some raspberry essence. I couldn't taste at all while I baked this so I had to rely on my flatmate and boyfriend to tell me what things tasted like. I got my boyfriend to taste the frosting, without telling him what was in it, and he thought it was
banana flavoured!
Haha, might not use that essence again!
Before piping the frosting on I popped a fresh raspberry on top of the cupcake and piped the frosting (with a round decorating tip) around and over it. Then I topped it off with another raspberry. They looked super cute and I heard that they were really refreshing in/on them because they broke up the sweetness of the cake and frosting.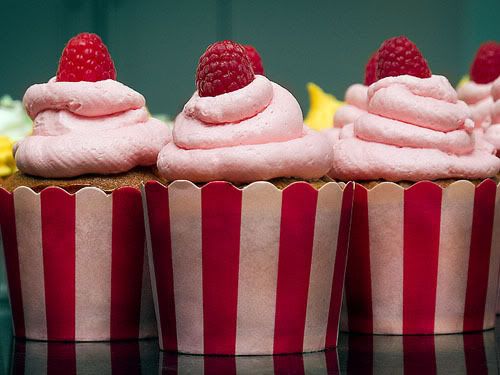 Mint Chocolate Chip Cupcakes
Mint chocolate chip cupcakes had to be on the list! Mainly because I had the green striped cases... Hehe.
They were super simple to do as well. I just added in some chocolate chips to my plain chocolate cake recipe and popped them in the oven to bake. I considered adding some peppermint essence to the cake but I didn't want the mint flavour to be too overpowering.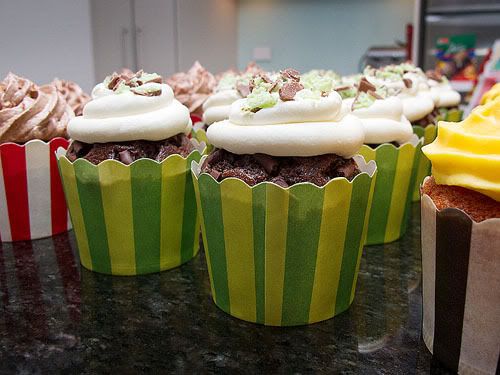 I added a bit of peppermint essence to cream cheese frosting, coloured it white so that it didn't have that butter/cream cheese colour and piped it using a round decorating tip. I crunched up some mint Aero bar and popped that on top
and they were done!
Chocolate Cupakes (vegan)
I had a feeling that Si and Soph might have some vegan friends in their circle so I thought I better do one cupcake that's vegan friendly,
just in case
. This one was really simple - I used the plain vegan chocolate cake recipe (link above), with nothing extra.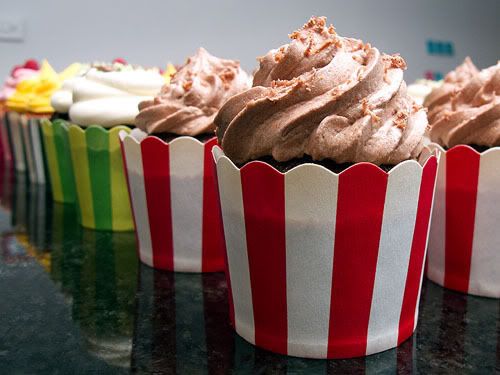 I made some chocolate buttercream frosting, piped it into a nice little swirl and then grated some dairy free milk chocolate on top just to give it a little something extra.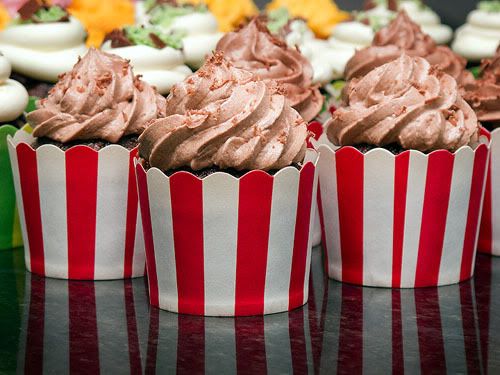 "They just may have been the best tasting cup cakes ever."
- Sophie Bayly