Yesterday was
Carly's
(my friend and flatmate, also known as Swarley for those How I Met Your Mother fans) 22nd birthday and to keep with our new tradition, I made her a cake! She requested something chocolatey (I think
purposely
so that I couldn't eat it all up since I'm doing this no chocolate/cocoa diet...
Ha!
).
I wasn't feeling very inspired at the time so I was just going to do a fairly plain chocolate cake, until I remembered that I had ordered this
giant cupcake cake silicone mould
and it was ready and waiting for me to use for the first time! I decided not to use the filling insert piece - will have to try that out some other time when I'm feeling more creative!
So that made my decision pretty easy. I used Carly's favourite chocolate cake recipe (found
here
minus the peppermint essence and chocolate chips). As soon as I started pouring the batter into the moulds I realised that I should have doubled the recipe. There was not enough batter to make the cakes rise up to fill the moulds completely.
Oh well... Now I know for next time!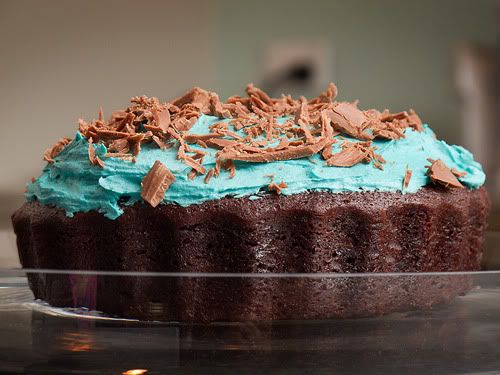 I was intending on making chocolate buttercream frosting but I thought brown icing was a bit boring, so I made
vanilla buttercream frosting
, added a little bit of vanilla extract in place of a bit of the milk and then coloured it with Wilton's Teal Colouring Gel.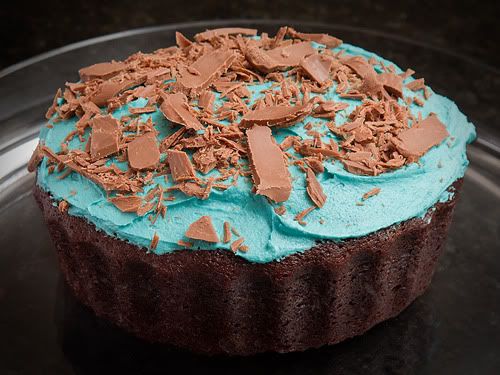 I put a layer of the frosting on top of the base of the cake and grated some dairy milk chocolate, just for a little something extra on the inside!
... I desperately wanted to eat that chocolate.
I trimmed a bit of the top cake off so that it sat nicely on top of the bottom half, and popped that on.
Having never made a giant cupcake cake before, I was a little unsure about how to put the frosting on to make it look more like a cupcake. I decided to pipe it which didn't turn out so well at all. There was a little too much air in the piping back so it spurted a bit and just came out looking not that great. Luckily I could just use a spatula to get a nice smooth look.
Mr. Spatula to the rescue!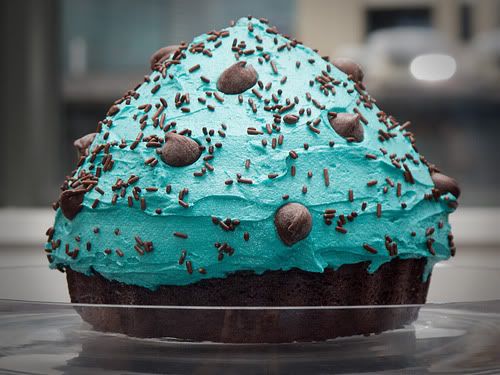 I topped the cake off with some milk chocolate drops and some chocolate sprinkles, and in the end it looked pretty cute! Especially for my first try haha.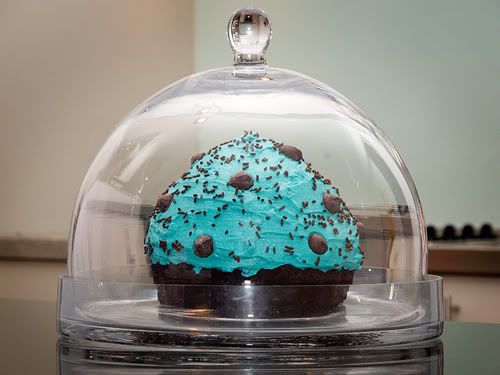 Check out that awesome glass bell-jar style cake display I got! I had been hunting for a glass lid for a while to go on Carly's white cake stand but had serious trouble finding just the lids on their own, let alone one that would actually fit on the stand nicely.
This one turned out to be
perfect
!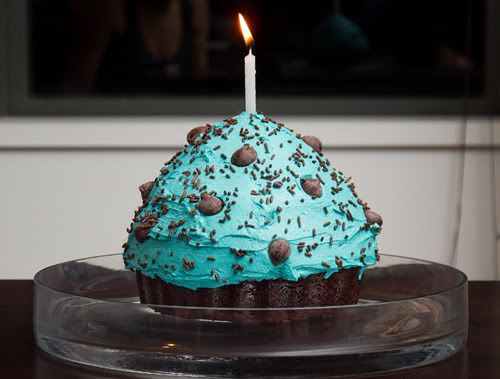 Topped the cake off with a single candle. Forgot to actually sing Happy Birthday though... Carly blew it out before I got to that part cause we were trying too hard to get a good photo! Haha!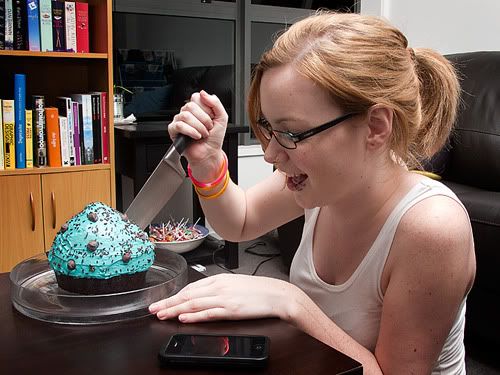 So...
HAPPY SWARLEY DAY!!!