One thing that I love about working in the Auckland office is that every year in December they have an
'Office Support Bake-Off'
. I think it's mostly to save costs instead of having the work do a Christmas morning-tea shout for us, but I will look forward to it every year.
Last December was my first bake-off. The bake-off had some rules which was mainly just the obvious stuff like no pre-mixed ingredients etc. And we were also told what the judges would be marking on. Taste, creativity, presentation, difficulty involved and more.
I decided to make
Lemon Meringue Cupcakes
, which I had made once before and they were quite fun. Below is a photo from that first batch. That recipe I had used contained coconut in the cake and the meringue and I wasn't a big fan of that. So I hunted out some new recipes and picked one that looked good to me for this bake-off.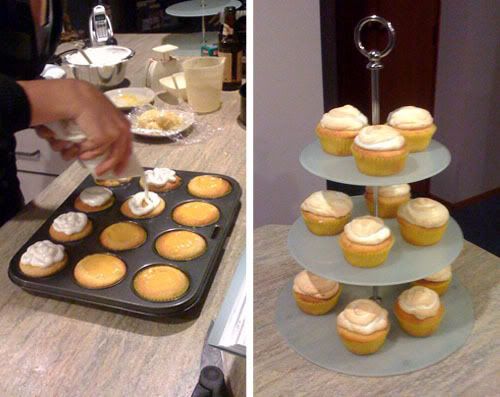 I figured that lemon meringue cupcakes would be sure to give people a run for their money, but I also had no idea what to expect from the others at my work. There were some really great entrants... someone made a fantastic cheesecake which was delicious however it wasn't quite set yet. Everyone was really blown away with my cupcakes. I even went to the trouble to bring my cupcake stand in and set them out on it. Everyone else's baking was sitting in plastic containers, so my stand and the pink and white polka dot cups of mine stood out amongst the rest.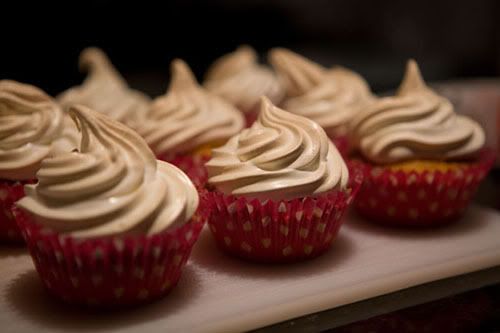 To my surprise, my Lemon Meringue Cupcakes came first! I won my first bake off. I scored very high on the presentation and difficulty involved part - due to having to make lemon curd, put it inside the cupcake, make and pipe the meringue and then re-cook it perfectly.
I was super happy with my win and I can't wait to enter again this year!
But what will I bake??