I'm starting this blog a little different to normal because it should have been started a long time ago. So in the beginning I will be posting some things that happened a while ago.
Growing up I never really baked much. I left that up to Mum. She made the most amazing pinwheel scones (cinnamon). I will have to get her to teach me how to make her ones sometime. They were amazing.
In 2009 a few of my friends and I would always end up having Sundays off together so we began to dabble in some cupcake making. I don't have any photos of the first couple of batches we made, but that is probably a good thing. They were quite bad. Not the cupcake itself, but the decorating. We stuck every bit of candy we could think of to them. They were a
sugary mess
.
On a cold Winter day my friend Carly and I decided to make some cupcakes using Caramel Hershey's Kisses. However, we did cheat. Good old Betty Crocker packeted cupcake mix was sitting on the shelf staring at us, and we were both feeling a little too lazy to make them from scratch.
While we were in the supermarket we found a cupcake stand. PERFECT. We decided we would have to have it and would make cupcakes as often as possible.
These are our
Caramel Hershey's Kisses Vanilla and Chocolate Cupcakes
.
That name is a mouthful!
We didn't get any really nice photos but these will have to do.
We bought a chocolate and a vanilla packet and decided to mix it up a little.
We also put a Kiss into each cupcake.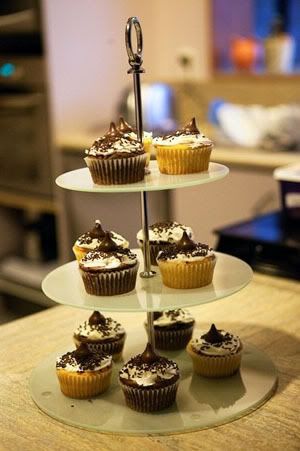 Decorated with vanilla frosting and a Kiss to top it all off.
We enjoyed them. That is Carly on the right. She is one of my best friends and also lives with me so you will be seeing more of her throughout this blog.
So this is where it all started.