I recently got the recipe for the chocolate cake my mum makes which I had grown up with and decided to test it out in cupcake form. So these were my
Chocolate and Golden Syrup Cupcakes
... (I added golden syrup into the title of these because although the cake itself is just a normal chocolate cake, the golden syrup in it really stands out to me - enough to make it a prominent flavour).
Chocolate and Golden Syrup Cupcakes
1 cup sugar
113g butter
2 tablespoons golden syrup
1 egg
2 tablespoons cocoa
1/5 cup boiling water
2 cups self raising flour
1 teaspoon baking soda
3/4 cup milk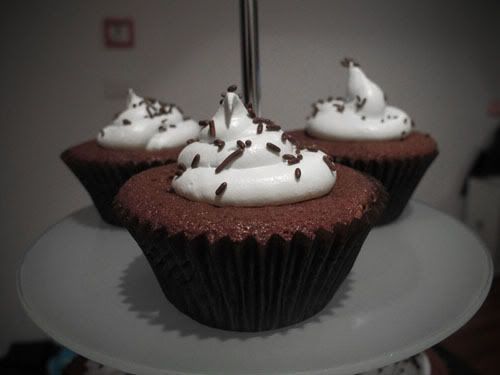 Preheat oven to 180 C.
Beat butter and sugar together till creamy. Add egg and golden syrup.
Dissolve cocoa in boiling water and add to mixture.
Add sifted flour.
Add baking soda dissolved in milk.
Bake until done (maybe 20-25 mins)
And of course I used my usual Cream Cheese Frosting recipe (60g softened butter, 160g cream cheese and 3 cups icing sugar) which I split in two. One batch I added whitener to and the other I added some purple colouring gel. Once piped onto the cupcakes I added some chocolate sprinkles on top.
Voila!